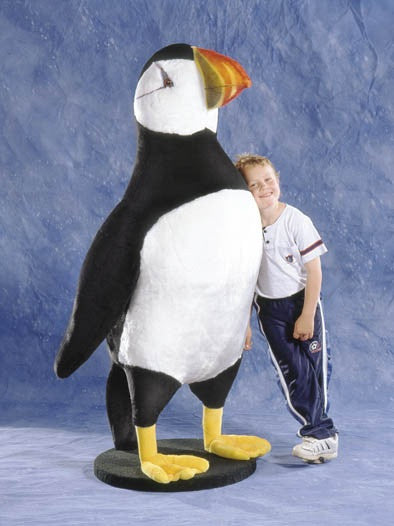 "Reader" Puffin
$1,995 plus shipping (within the Continental United States)
Please
contact
us for availability 
Approximate Size:  5'4"
Please allow approximately 4 weeks for fabrication of this item.
As all our animals are handmade, sizes and weights are approximate measurements. Additionally, stock images are used in most cases, which may not reflect the precise coloring or facial expression of the animal you receive. Many items are made-to-order, and so we request that you ask any questions prior to ordering. Please note: our animals are meant to be for collectors or display pieces unless otherwise noted.
Big Furry Friends offers Luxury Plush Stuffed Animals, Displays, and Props. We offer lifelike, life size, realistic, giant, large big and small animals handmade by Piutre, Koesen, Hansa, Ditz Designs and more. They make wonderful keepsakes, as well as theater props for stage and screen and can be seen in theatres around the world. Big Furry Friends animals make great additions to interior design and home staging, as well as non-taxidermy props for commercials, television and movies. Plush stuffed animals are widely used in themed decor for weddings, parties and other events, as well as corporate branding and mascots.
From Wikipedia: Puffins are any of three small species of alcids (auks) in the bird genus Fratercula with a brightly colored beak during the breeding season. These are pelagic seabirds that feed primarily by diving in the water. They breed in large colonies on coastal cliffs or offshore islands, nesting in crevices among rocks or in burrows in the soil. Two species, the tufted puffin and horned puffin, are found in the North Pacific Ocean, while the Atlantic puffin is found in the North Atlantic Ocean.
All puffin species have predominantly black or black and white plumage, a stocky build, and large beaks. They shed the colorful outer parts of their bills after the breeding season, leaving a smaller and duller beak. Their short wings are adapted for swimming with a flying technique under water. In the air, they beat their wings rapidly (up to 400 times per minute) in swift flight, often flying low over the ocean's surface.
---
---
More from this collection