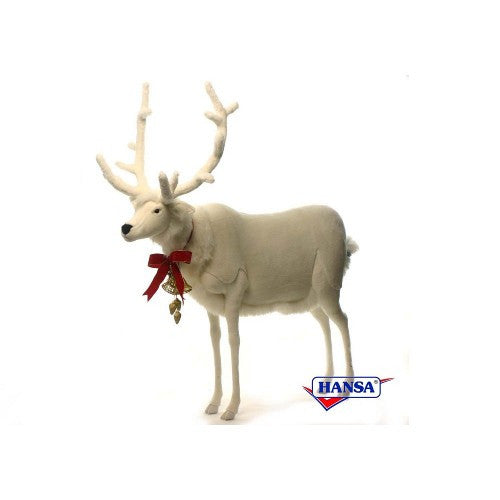 "Lightning" White Reindeer - Animated Mechanical
$3,690 plus shipping (within the Continental United States)
Please contact us for availability 

Approximate Dimensions:  55.12in X 14.17in X 59.06in (LxWxH);  25.9 lbs.
As all the animals are handmade, sizes and weights are approximate measurements. Additionally, stock images are used in most cases, which may not reflect the precise coloring or facial expression of the animal you receive. Many items are made-to-order, and so we request that you ask any questions prior to ordering. Please note: our animals are meant to be for collectors or display pieces unless otherwise noted.

Big Furry Friends offers Luxury Plush Stuffed Animals, Displays, and Props. We offer lifelike, life size, realistic, giant, large big and small animals handmade by Piutre, Koesen, Hansa, Ditz Designs and more. They make wonderful keepsakes, as well as theater props for stage and screen and can be seen in theatres around the world. Big Furry Friends animals make great additions to interior design and home staging, as well as non-taxidermy props for commercials, television and movies. Plush stuffed animals are widely used in themed decor for weddings, parties and other events, as well as corporate branding and mascots.

Individually hand-crafted by artists, HANSA offers the world's widest range line of "realistic" plush animals from the around the world.

Lovingly designed, in a socially responsible, eco-friendly, STUDIO environment, from portraits of animals in their natural habitat, EACH Hansa animal is given its own unique personality. Each animal's "coat" is meticulously cut by hand, never stamped out by machine. Soft paws, swishing tails, and especially soulful eyes and faces are lovingly detailed to create the life-like look that is unmistakably Hansa. Each adorable, heirloom quality, cuddly, Hansa Creation will appeal to collectors and animal lovers of all ages!

Hansa is respected the world over for its finely crafted collection of our planet's animal kingdom. Originally created for exclusive European collectors, each plush animal is meticulously handcrafted from portraits of real animals in their natural habitat. Our mission is to educate children and adults alike, about the lives of these magnificent creatures, and to understand, respect and appreciate the importance of our co-existence with all animals, in nature's "circle of life". Each animal comes with a "Teaching" tag describing, in detail, the animal's habitat, lifestyle, history, location, gestation period, care of their young and eating habits.

Significant research goes into reproducing every animal species. As noted above, the fabric for the spotted and striped animals is custom designed and exclusively created in small quantities to Hansa's exacting specifications. Each animal created is hand finished by Hansa's artists to give each their own unique personality (just as in real life).

The meticulous detail, and WIDE "RANGE" of the 17 Collections has made Hansa the preferred supplier to many zoos, wildlife parks, garden centers, Holiday displays, media events, photo-shoots, museum, and gallery exhibitions. Hundreds of animals, "FROM aardvarks to ZEBRAS" make this the worlds largest collection of "realistic" animals in today's market.

EVERYBODY LOVES ANIMALS and posed together, they create magical "attractions" that bring out the wonder in all of us!

Hansa was founded by German-born Hans Axthelm in 1972, and features "amazingly realistic" plush animals designed from ARTIST PORTRAITS of the world's majestic and EXOTIC wildlife. Hans and the ARTISAN TEAM have dedicated themselves to the development and production of "true to life" replications of animals in their natural habitat. Designs are as exact as possible in their detail.

Over the years, HANSA has received many awards for its designs including "ANIMAL of the Year" as well as other internationally recognized awards and ARTIST designed product nominations.

The unique combination of industry experience and European influence executed in the design, creation, and quality control is what makes Hansa's animals exceptional.

Wikipdeia: The reindeer, also known as caribou in North America, is a species of deer with circumpolar distribution, native to Arctic, Subarctic, tundra, boreal and mountainous regions of northern Europe, Siberia, and North America.
---
---
More from this collection